The Sanctuary

It all started in the year of 1992. Entering my life came an adult rhesus macaque called "Mindy Sue". Age unknown, small for her species and severely under weight, Mindy was to change my life in ways I could never imagine.
In Mindy's memory, the Sanctuary was founded and built to what it has become today. To give a chance at a freer life for those who find us.
Spring Cleaning/Enrichment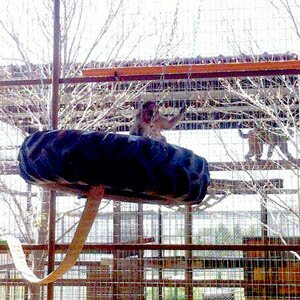 Cleaning, painting and adding enrichment, like this tire swing, is in full swing at the Sanctuary.
Please make a donation to help us get more accomplished.
Donate NOW!